From Sludgeswamp.com
For those of you that don't know, Khann play a sort of sludge/grind that's growing increasingly popular these days. There are various possible descriptions: Isis with more anger, Goatsblood with less negativity, Mastodon with less sucking, etc. Perhaps the best parallel would be with Sweden's Crowpath; there seems to be a lot of similarity to that group's 'Son Of Sulfur' release. However, Khann is pretty unique in their own right. Tempos frequently swing from blistering grindcore to ultra-slow sludge on a dime, and each performer seems to play their respective instruments and scream their individual lyrics in a particularly (well, not enthusiastic) insistent manner. Above and beyond this, there's a sense of melody that seems more developed than your average grindy sludgy corey whatever band that makes the music actually enjoyable to listen to on its own right, as opposed to through a lens of progressiveness. Khann seems to be at their best when they're venturing into post-hardcore or whatever you want to call it Isis-style territory. It's subtle, but most certainly there on songs like 'Black Water Permiates', 'Leeches', or, the best track on the demo, 'Squall'. If you can let yourself soak in this moments which seem to represent Pelican listening to too much Napalm Death, then you'll be faced with easily the best and most emotional (though I'm sure they'd hate that descriptor) parts of this release. Hell, I'd even describe those parts as sublime. The noisy parts are all well and good, but if you look at the songs as being structured in an almost post-rock way (with the noisy parts as the instrumental sections and the emotional parts as the climaxes), the overall feel of the music is greatly improved. Flaws? Well, it's pretty damned inconsistent, to be honest. I'd say the music jumps around a little too much, but of course this is simply a matter of taste more than any objective critique. It seems that certain songs on here are designed to fit some sort of perceived requirement for 'brutal' music; the gap between tracks like 'Squall' and the lesser ones like the title track is just too damned big to ignore. Luckily, the good parts are so damned good that you can easily ignore the less pleasant portions and just bask in the ones that work so flawlessly. I'd say that if Khann concentrated on tracks such as 'Squall' (which really seems to represent their personal style), they could be one of the premier bands in the... whatever, I'm not going to bother to find a genre, scene. So, 'Tofutopia' generally works out with more hits than misses, much to my pleasure. Check it out here and check them out live; I certainly will be. (Review from: grindingtheapparatus.net).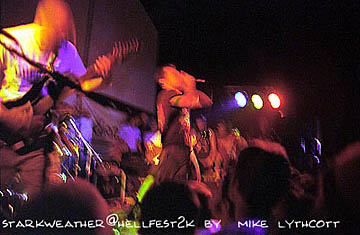 The ultra-influential Philly hardcore / metal band (let's not use that other term)
STARKWEATHER
has emerged for the grave after nearly a decade of silence. With their new LP "The Sheltering Night" on Deathwish, the innovative technicians blaze through all notions of what hardcore is or could be. They pummel you from the stage Saturday, along with crushing HC/doom monsters
RAW RADAR WAR
, THE COMMUNION, and PANZERBASTARD for a show dedicated to and benefitting the family of terribly-missed NY promoter and musician Lee Altomare. 8pm ALL AGES.